Last Updated on December 24, 2017 by Lawrence Berezin

Will this action finally end pedestrian ramp scam parking tickets?
The DOT will pave over Mid-block pedestrian ramps.
The Department of Transportation plans to pave over the mid-block sidewalk ramps that have cost drivers millions of dollars in summonses — even though it's legal to park beside the ramps, officials said Friday. 'They are being removed as part of DOT's systematic pedestrian-ramp upgrades in conjunction with repaving and other work," said a DOT spokesperson.' "
For those of you that have lived under a rock next to the GEICO cave man, the NYPD finally admitted that it systematically issued a bazillion scam tickets for parking in front of legal, mid-block pedestrian ramps. Professor Wellington, who writes the wonderful blog IQuantNYC, estimated the illegal parking fines totaled millions of dollars per year.
A look back to the future
Parking in front of all pedestrian ramps was prohibited until the NYC Council voted to change the law in December 2008. The new law permitted parking in front of certain pedestrian ramps at 'T' intersections. But, the DOT failed to publish this change in the rule until Larry (that's me) alerted the DOT to this omission. The new rule was published by the DOT within 24 hours.
Unfortunately, the practice of issuing scam tickets for parking in front of legal pedestrian ramps continued. In other words, many rogue warriors still issued these scam tickets.
Since December 2009, Larry published a number of blog posts alerting the driving public about the scam and offering advice about how to beat this illegal ticket.
On May 11, 2016,  Professor Wellington published a shocking claim supported by data from the NYC Open Data website charging the NYPD with systematically issuing scam pedestrian ramp tickets for parking in front of legal, mid-block pedestrian ramps. As a result of Professor Wellington's proof, the NYPD admitted their bad behavior.
Subsequently, Mayor de Blasio's office confirmed that the city will give the money back to anyone who paid those tickets.
The mayor has asked the agencies to make sure anyone affected by this mistake is reimbursed quickly," said City Hall spokeswoman Monica Klein.
Which brings us back to doe and the DOT's plan to pave over these legal ramps.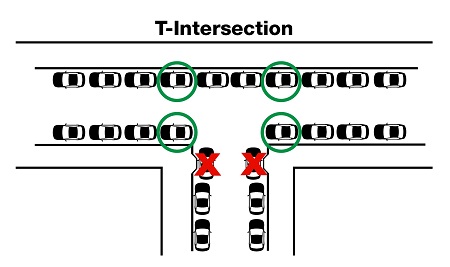 The New York City Traffic rules allow parking at some "T" intersections—those without traffic signals, all-way stop signs or crosswalk markings—even if there is a curb cut at that place.
"Sheepshead Bites" published a wonderful article about how to claim your refund
Here is a step-by-step guide:
The Department of Finance has said that they will check wrongfully issued pedestrian ramp tickets going back more than one year using the form found here.
After review, the DOT will issue a refund if it is discovered that the driver paid a wrongful ticket
Drivers must type "Pedestrian Ramp Ticket Issue" in the subject heading and they must have either the relevant summons number or their license plate number to give so the DOF can accurately search for the ticket in their system.
If drivers received this type of ticket recently and have yet to dispute it, they are encouraged to dispute the ticket using for form found here.
Commentary
Is this the final curtain for the pedestrian ramp scam parking tickets? We shall see.